Special thanks to each and everyone of you!
To every person who has followed us on social media, to those who have donated, to those who have supported one of our fundraisers, to those who comment and share our posts, and to those who love what we do, thank you!! I will never be able to thank you enough for your support. I could not do what we do without the help of each of you. We truly can save lives together.
I also wanted to give an extra shout out to just a few people below. By all means, this is not every person who has done something special for us. I have been truly blessed to have so many people who have helped us get we are today. If you moved a box when we moved to Virginia, are a board member, or one of new volunteers or helped us along the way - thank you! Thank you for believing in me and my dream of helping animals and thank you for your help on this journey of saving lives.
Carly Sutherland reached out to me my first year and offered to take photos for us. We immediately hit it off as friends and talked hours the first time we talked. Carly has volunteered at both of our events and has come to the farm several times to use her amazing talent to capture our gang. A huge thank you to Carly for all of her time not just here at the farm but also all of her time editing the photos she takes. Her photos are in several spots on our website - About the Founder, Our 2 Events, and the V-dog section below. Besides being an amazing photographer, she is an unbelievable foster mom to dogs and cats. She has saved many lives as well as transformed their lives as well. Please give Carly a follow on her Instagram account. She can be found under @carrotsandcarlos. Or check her website out by clicking on any of the images above.
MatPetArt
Artist
Livia did this amazing painting of Bucket and Colton and sent it to me which I absolutely love. The meaning of this painting is exactly what we want everyone to see when they watch our gang on social media. There is simply "no difference" between Colton and Bucket. Both deserve to be happy, loved, and safe.
Thank you Livia so much!
This painting is available in our Etsy store on canvas.
Eraine Wegiel
Eraine surprised me by sending me this beautiful painting of Liberty. It truly depicts all her characteristics. This painting is available in our Etsy store on canvas.
Eraine is also continuing her support of Little Buckets with a Fun with Art online class where you can learn to paint a Tulip from Eraine herself. Be sure to check this out on our Other Ways to Help page.
Thank you Eraine for your support!
Eraine saw a video of Journey and Jesse and decided she needed to capture this in a painting. She was extremely generous and we held a raffle fundraiser and one lucky person won this painting. The funds raised from the painting is going towards Bucket and the boys bigger barn.
Thank you Eraine so much!
Click either image to be taken to Eraine's website.
Kim Harding
Oil and Watercolor Artist
Kim followed us when she saw a post of Hopie, Charlie, and Blondie all laying together against the barn. It immediately inspired her to paint it. Her first go around at goats but you would never know it. Kim gave me the painting and I absolutely love it. Thank you Kim so much!
Click the painting to be taken to Kim's website to check out her other work.
Artist
Tami surprised me with this amazing watercolor painting of Willow and Colton. So talented. I love it so much! This painting is available on canvas in our Etsy store. We will be also offering other items in the near future with this painting on it as well.
Thank you Tami for all your support!
sol-exposure
Artist
It was an absolute surprise to be sent this picture of this amazing painting of Willow. And we were so lucky to be able to auction this off to our followers and have 50% of the proceeds donated to Little Buckets. Thank you.
Please click the image to check out more of Sol's work.
On a sidenote, Sol's dog looks like Colton and that is how she found us. :)
Painter & Digital Artist
Thank you James for painting this adorable canvas of our little Willow. James is donating a portion of the sale of the original painting to Little Buckets. Prints are also available. Check out his website by clicking the image.
Mikyla and David
Friends
How our logo came to be...my first farm's name was Summer Promise Farm and I so wanted to have a logo so I could get shirts, etc made. A colleague and friend, David Schlosser, took my ideas and brought together a logo for me. When Little Buckets came to be, I wanted to use that logo as the basis for my new one. There came in, Mikyla Martinez, who helped me at my farm in Maryland. And lucky enough she was an amazing artist. I asked her to do the center piece for my logo. I gave her 3 pictures for inspiration and she did the rest. It went perfectly into the center of the logo. I can't tell you enough how much I love our logo!
Thank you both so much!
Colton
Colton became Vegan in July 2018 eating V-dog food. I was not putting my beliefs on her but after learning about other dog foods, it was absolutely the best choice. Colton is happy and healthy as ever.
Then with the help of Carly, Bucket and Colton were featured on V-dog's website and in print ads. It was beyond awesome to see the two of them in a magazine. They have also donated bags of food to us as well. We love V-dog.
If you have any questions about changing your dog over to a vegan diet, please check out their website.
Click an image to check on check out our Sanctuary Spotlight on the V-dog website.
Trupo Treats
Trupo Treats is a new vegan, milk chocolate bar company. We partnered with them in August where they donate a portion of their sales to us over a 2 day period. We are lucky enough to be partnering with them again on December 10th & December 11th. Please try them out. You will love their bars!
Thank you Trupo Treats for your amazing support of Little Buckets and many other amazing sanctuaries.
I would not be here without the help of my family and friends. Many helped us get to Virginia which was a feat in itself moving an entire farm to a new state. But my brother, Larry, and his wife, Robin - stepped up like I could have never imagined. And this was not the plan when I planned to do Little Buckets but without them, I don't think I would have survived standing the past two years besides the farm would not look the way it does nor would I have been able to save all the lives we have. The first 6 months Larry lived here while Robin still lived in South Carolina. They saw each other some weekends but both sacrificed a lot to help me. Then after going back to his life, Larry returned 9 months later with Robin, this time to live for a short period of time. However, with Covid, this turned into over a year, which I certainly did not complain about. Their help with the daily care and routine, to projects, to helping me unpack, to their tremendous help with Tater and Tot, the list is endless. I and the animals will be forever grateful. When this time comes to an end, it will be a very hard transition not because of losing help which will be beyond hard, but because I simply will miss them so much. As hard as we worked, we had fun, we laughed, we cried, we missed our mom, and now I will have to do that with Colton. :) My brother, Rob, who has also helped with the new fences, the new goat run-in, and mowing, will be stepping in as much as he can. I am forever grateful to my family's support and love. I am so incredibly lucky.
A few other companies we love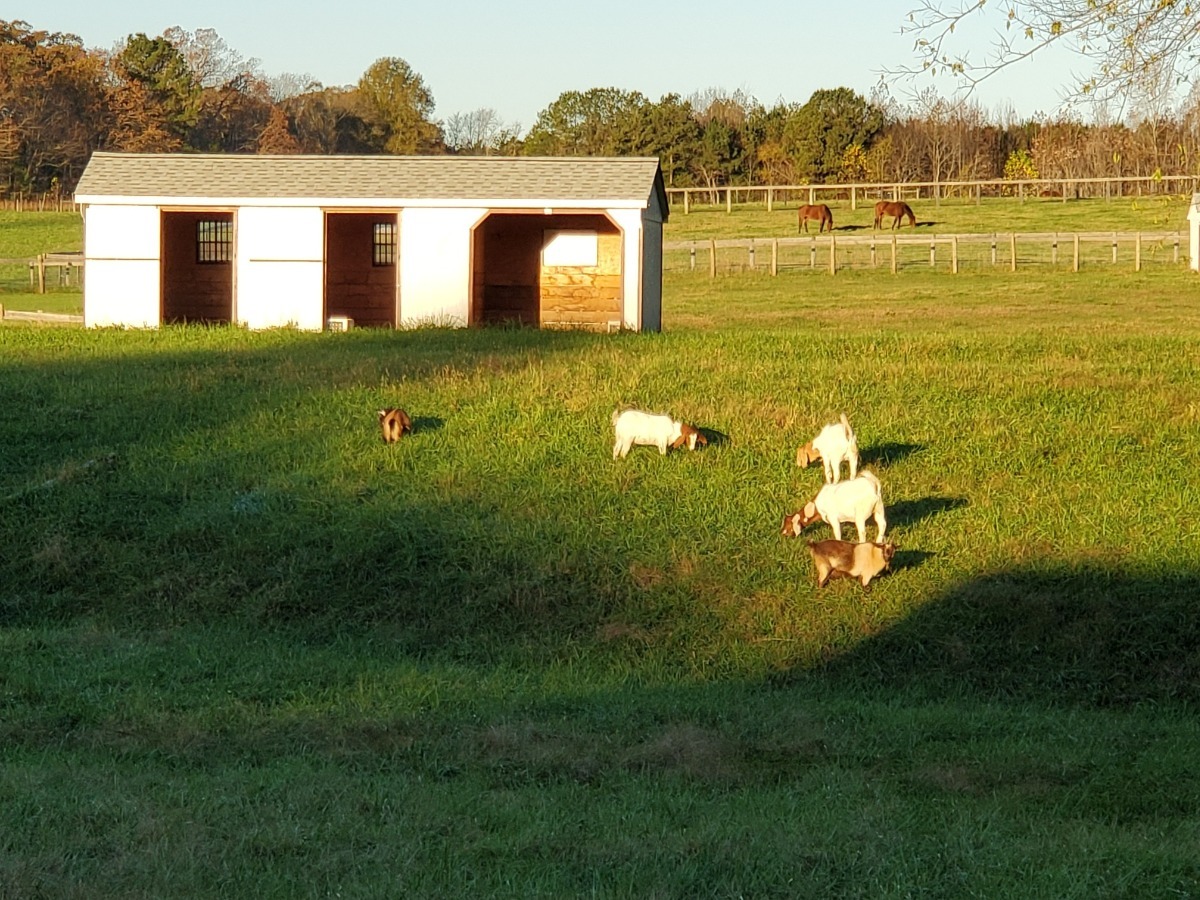 Horizon Structures
After having a nightmare dealing with a contractor, I decided to check out Horizon Structures. And that was absolutely the best decision. Truly one of the best companies I have ever dealt with. They give nonprofits a discount and on top of that I love our barns. We have 2 shed row barns and 2 run-in sheds with Bucket and the boys barn coming soon. If you are in need of shed or barn or many other buildings, hope you check them out by clicking the picture. Be sure to mention us as we will get a gift if you buy a shed from them. :)
PowerSports Carolina
With the amazing support of all of you and with the help of PowerSports Carolina giving us an amazing price, we were able to get new wheels for the farm in July. After walking 5 to 6 miles a day for months after our golf cart died, these wheels were the absolute best thing. Both Colton and I are forever grateful. We love our Ranger. We love that it is electric. Thank you PowerSports Carolina not only for the price you gave us but for delivering it to us.